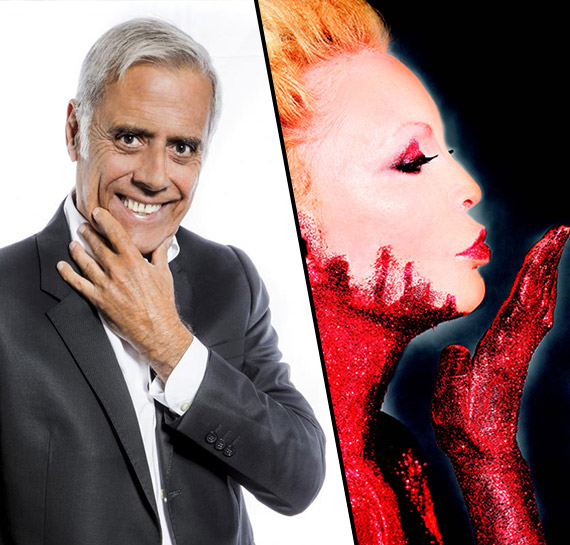 A funny show
and a great concert
Patty Pravo - RED TOUR
Teo Teocoli - TUTTO TEO
A funny show and a great concert in one night:
TEO TEOCOLI  – TUTTO TEO
TUTTO TEO IS THE "ONE MAN SHOW" OF TEOCOLI
Teo Teocoli with his extraordinary "Tutto Teo" is on tour, an unprecedented "one man show", full of gags in about three hours of show with the best of the artist's repertoire. From monologues to alternate musical parts, to imitation and the most important celebrities such as Caccamo and Celentano, in other words, a show when you laught a lot!
A show of pure fun, where, in a sort of "lanx satura", Teo brings his repertoire to the stage, without a set list but relying on the feeling and inspirations of the moment, in a "backwards journey" of his path as actor, singer, dancer, in one word, as a "showman".
A back to the origins and essentiality of comedy, through all the styles of light show. Funny monologues tell a past that belongs to everyone, with the re-proposal of images and anecdotes of our "collective memory"; the comic notes and the fervor of the most famous characters thought by Teo, and presented in real theatrical "pamphlets", bringing back every night to the audience a star of comedy.
Played on multiple registers, the "Tutto Teo" is the synthesis between cabaret and variety, with an unique repertoire of gags, songs and stories with funny periphrases that make the show a memorable evening.
Teocoli's career began as a singer of a musical group, "I Quelli" (then they became the famous "PFM"). Then the years of the Derby Club of Milan, a club that has trained many of the stand-up comedians and Italian comedians like Diego Abatantuono, Enzo Jannacci, Massimo Boldi – a springboard that allows them to grow artistically and establish themselves in the entertainment world. From this moment on, the road to success is all downhill. Television broadcasts such as "Mai dire gol", "Scherzi a parte", "The Sanremo Festival" and "Quelli che … il calcio" identify him among the protagonists of the small screen and allow him to win, in 1999 and 2000, the TV Oscar as the TV celebrity of the year. In the last thirteen years he has spent his time with great success to the theatre.
PATTY PRAVO – RED TOUR
Patty Pravo will also display the songs from her new album, "Red", released on Friday 8th of February on the "Museo dei Sognatori" label and distributed by Believe; 10 unreleased songs, including "Un Po' Come La Vita" (the song that was in competition at Sanremo Festival, written by Marco Rettani, Diego Calvetti, Briga and Zibba and interpreted together with the same Briga), in which they have taken part Giuliano Sangiorgi with the song "Dove eravamo rimasti" and Ivan Cattaneo with a poignantly liric that has touched the heart of Patty: "La carezza che mi manca".
In the track list of the album there's also the song "Io so amare cosi", a gift left personally to Nicoletta by a lifelong friend: Franco Califano. Then other authors such as the talented young Giovanni Caccamo with "Pianeti", Diego Calvetti, Marco Rettani (author of Pausini, Noemi, Amoroso, Nomadi), Zibba, Antonio Maggio with "Padroni non ne ho", Fulvio Marras.
An album masterfully produced and entirely arranged by Diego Calvetti, the Director and friend of Patty Pravo; recorded in the months of October, November and December 2018 mainly at his studio in San Gimignano (SI). In the album there is also a personal and ethereal tribute of the artist to one of his songs that this year celebrates 50 years (1969/2019): a song that in all these 50 years has never left the playlist of Patty Pravo's live concerts : "Il Paradiso" by Battisti and Mogol.