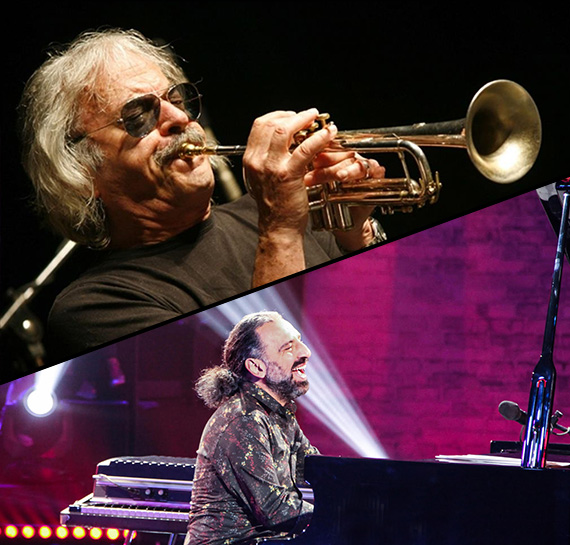 Two greatest concerts
in one night:
Enrico Rava
Stefano Bollani
Two greatest artists for two extraordinary concerts in one night:
ENRICO RAVA – SPECIAL EDITION "80 years of Music"
Now, close to turn his 80 years old the next August, Rava has decided to display a Special Edition, bringing together the musicianswho have been closed to him over the last few years, in order to start a new band, reinterpret and bring up to date the most relevant pieces of his path and play new written compositions for this occasion. We just have to wait a few months to enjoy this extraordinary event in the audiences around the world.
Enrico RAVA trumpet & flugerhorn
Gianluca PETRELLA trombone
Francesco DIODATI guitar
Giovanni GUIDI piano
Gabriele EVANGELISTA double bass
Enrico MORELLO drums
Giovanni Guidi, leading figure of the 20-years-olds italian jazz generation, has won the Top Jazz 2007 (the Critics' Award announced by the magazine Musica Jazz) as the best new national talent, he has recorded six album with his name and has took part to many important national and international Festivals.
STEFANO BOLLANI – PIANO SOLO
SOLO is a term that can lead you astray. In concert, I'm always with my audience that convey something to me, my thought, the food I've just eaten, the sound of the stage, the monitor and the sound system prepared by Roberto Lioli, that for years joins my piano with the rest of the world. Thanks to him, I make myself as an instrument and I enjoy seeing what comes from improvising, as the sound that is created inside me and it's channeled into my hands, it reaches the piano and then to the audience. I recorded three albums alone, Småt Småt, Piano Solo and the most recent Arrivano gli alieni. But I go up on the stage to play, without a predefined playlist, "what's on my mind at the moment", to quote George Bernard Shaw (but he never said it). It's like building a bridge and at the same time passing over it. It is important to translate this present moment into sound, in order to touch directly every heart, without necessarily going through the judgment of your head.
And at least on the way this sound will entertain you like a breeze that blows images in motion, lights, colors … You manage the details of this emotional theatre that is personal, everyone on his own, I bring the breeze.
Stefano Bollani piano, voce
Tickets can also be purchased at Casino Opera House of Sanremo, opened on Tuesday – Friday – Saturday from 4.00 p.m. – 7.00 p.m.
PARTERRE 30€ – BALCONY 20€ plus booking fee. The proceeds will be devolved in charity.